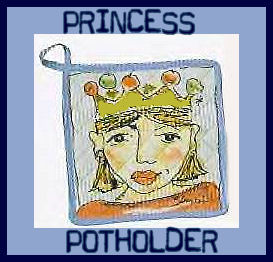 Every Month I will mail a small gift for the person that posts the best potholder on the HOT MITT MONTHLY Flickr Pool.
The Flickr image has to be related to the monthly theme from the site, and be an actual potholder that belongs to you. (purchased or handmade)
Pattern images are still welcome to the potholder pool, but are not considered for the "Princess Prize".
The Winners name will be posted on the site and Flickr.
I will leave the judging to the Flickr feedback on the image and ultimately my husband. (so that it keeps it fair)
This should be fun and corny enough to have a good time.
OUT OF THE COUNTRY WINNERS ARE O.K.