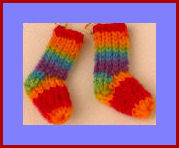 This letter is for you to start the sock swap in your area. You will need two names to start the swap letter.
Share your sock pictures and sock fun at Sock Heaven on Flickr.
Funky Sock Exchange Letter
Dear______________
This is a Funky Sock Exchange.
Please send a unique pair of ladies socks to the person listed on the #1 space below.
Then move my name/address up into the # 1 space and put your name/address in the # 2 space. Only your name and my name should appear on the list when you send out your letters.
I have enclosed a blank letter for copying. Please make (12) copies of the blank letter filling out six with the new #1 and #2 name and addresses. Staple to a blank letter and mail out to six friends.
This is not a chain letter as much as it is a Sock Swap.
A manila envelope will mail the socks nicely.
You should receive thirty- six pairs of socks for the price of one and it is fun to see the different places where your socks will come from.
Seldom does anyone drop out because we can all use funky socks to boost our outfits!!
The turn around is extremely fast because there are only two names on the list. You should be receiving funky socks within two weeks.
Have fun, and remember to contact me if you cant participate.
Thanks
__________________________________________________
Name # 1 _____________
_______________________
_______________________
Name # 2 _____________
________________________
________________________